Wel
c

ome to the Futu

r

e of Leasing

M

anagement

CRM property management – Every touchpoint matters

Rent Dynamics' Multifamily CRM software (apartment leasing software and lead management tools) is designed for seamless use. Our product streamlines the inbound process with a user-friendly interface that caters to the leasing team's specific requirements. Our fluid feedback channel ensures the product is constantly improved based on your team's needs. Trust Rent Dynamics' Multifamily CRM to efficiently manage your apartment leasing and lead management tasks.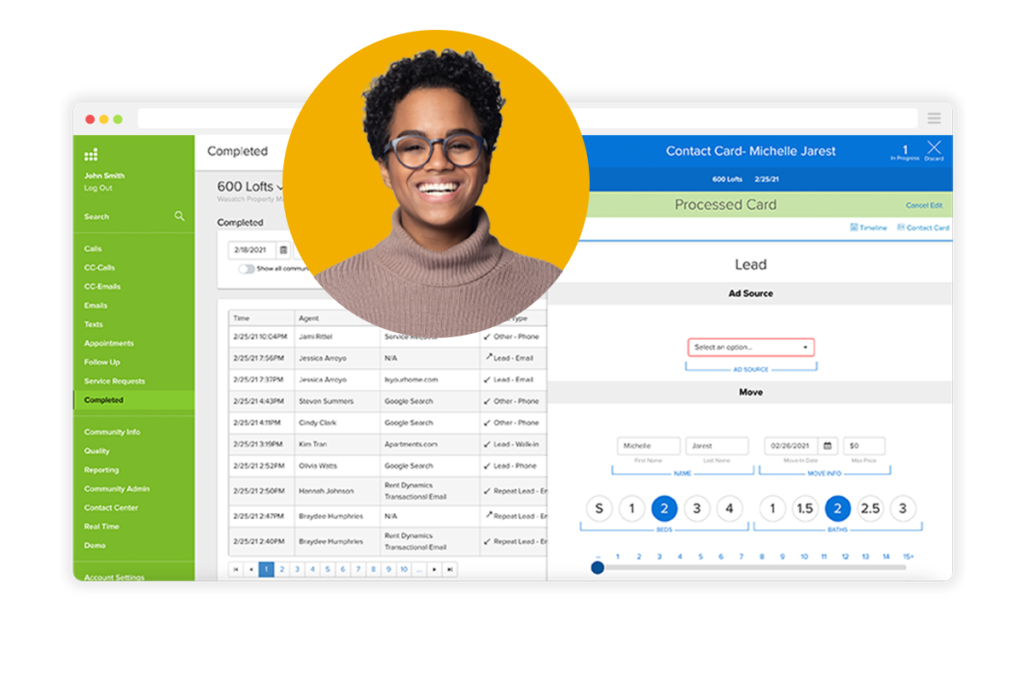 From the first ad click to the lease agreement, we are powered by YOU!
We make apartment leasing easier with our flexible user experience (UX) and baked-in multifamily property management CRM features like:
• Automated follow-ups
• Email templates
• Resident-centric guest cards
• And more!
What can our Multifamily CRM do for you?
Jennifer Ceroy of Klingbeil Capital Management had this to say about us. "[Rent Dynamics] promotes a higher-quality lead nurturing process while improving team response times, productivity, and accountability." See why leasing teams choose our Multifamily CRM for apartment lead management. Leave your information below!
Supercharge your sales and marketing efforts
Interested in optimizing your team's productivity? Our multifamily property management CRM software can enhance your sales, leasing, and marketing approaches, providing valuable insights into what strategies are effective and which are not. Work smarter, not harder, with our user-friendly software and efficiently achieve your property management goals.

A Leasing CRM that is always growing, just like your residents.
Baked in add-ons for top-of-line multifamily performance software.
Leasing in its simplest form
At Rent Dynamics, we acknowledge that each team has its own approach to utilizing a multifamily CRM. Our Leasing Dashboard simplifies daily tasks by providing a flexible and easy-to-follow format. No longer will you have to contend with cumbersome software designs that hinder productivity. With our dashboard, you can concentrate on what's truly essential – communicating with prospects and residents. Trust Rent Dynamics to enhance your team's efficiency and improve resident satisfaction.
Voice of Customer (VoC)
Say goodbye to secret shopping
Rent Dynamics' Voice of Customer (VoC) service is a personalized shopper, utilizing AI and machine learning to extract valuable insights across your portfolio. With VoC, property managers and owners can access millions of prospect, resident phone, and email communications to track and trend behaviors through a customizable dashboard. Our platform can be easily integrated with most PMS and CRM systems. Contact us to learn more about our multifamily lead management tools and how VoC can revolutionize your property management approach.
Multifamily CRM FAQ
What is a multifamily CRM?
A multifamily CRM is a customer relationship management platform designed for the multifamily housing industry. It provides property management teams with a comprehensive suite of tools to manage their resident and prospect communications, track engagement, and measure success.
What are some of the features of a multifamily CRM?
A multifamily CRM includes features such as lead tracking, automated communications, custom surveys, resident portals, and analytics. It also offers integrations with other property management software, including accounting, maintenance, and leasing systems.
How can a multifamily CRM help property management teams?
A multifamily CRM can help property management teams by streamlining their workflow, increasing efficiency, and providing them with valuable insights. By automating mundane tasks and providing access to real-time data, property management teams can focus their efforts on providing the best service to their residents and prospects.
What are the benefits of using a multifamily CRM?
A multifamily CRM can help property management teams increase resident satisfaction, reduce costs, and improve efficiency. It can also help build relationships with prospects, generate more leads, and close deals faster. In addition, a multifamily CRM can provide valuable insights into the performance of a property, allowing management teams to make informed decisions.
A CRM for Multifamily Marketers and Operators
Marketing
Engagement opportunities and increased visibility
Reporting/analytics for every level of insight
Notifications that lead to smarter marketing strategies
Customizable follow-up platform with alerts
Improve your ROI on marketing spends
Smarter Leasing for Revenue Optimization
Leasing
Intuitive guest card design is easy to use
Chatbot for guided customer engagement
Flexible integrations with your existing systems
Business intelligence to track and analyze behavior that will influence business decisions
Focus on Residents, Long After the Lease is Signed
Retention
Resident guest card (like a lead guest card, but for existing residents)
Resident communication platform that is text and email enabled
RentPlus rental payment reporting is a true differentiator
Start your Journey with Rent Dynamics
Schedule a demo with one of our product experts today.