R
ES

ident Retention, Meanin

G

ful Value

Rent Reporting Services for Everyone

We put the 'S' in ESG or Environmental, Social, and Governance initiatives. RentPlus offers credit building for renters, enabling them to establish and build credit by making on-time rental and utility payments. With no credit check or loans needed, this amenity is a true differentiator for property management companies (PMCs).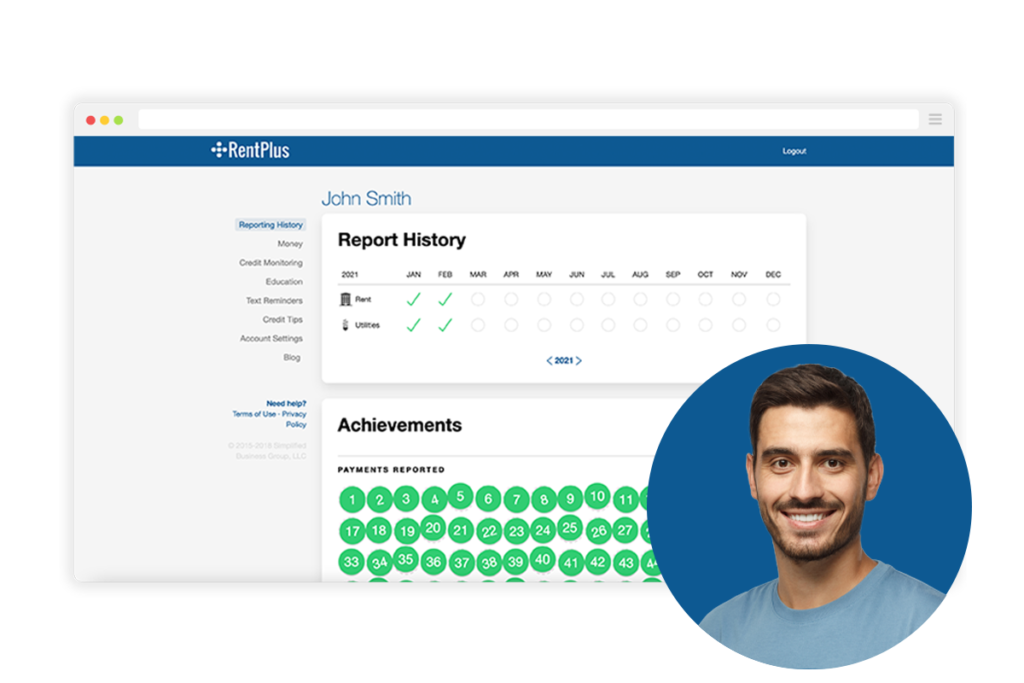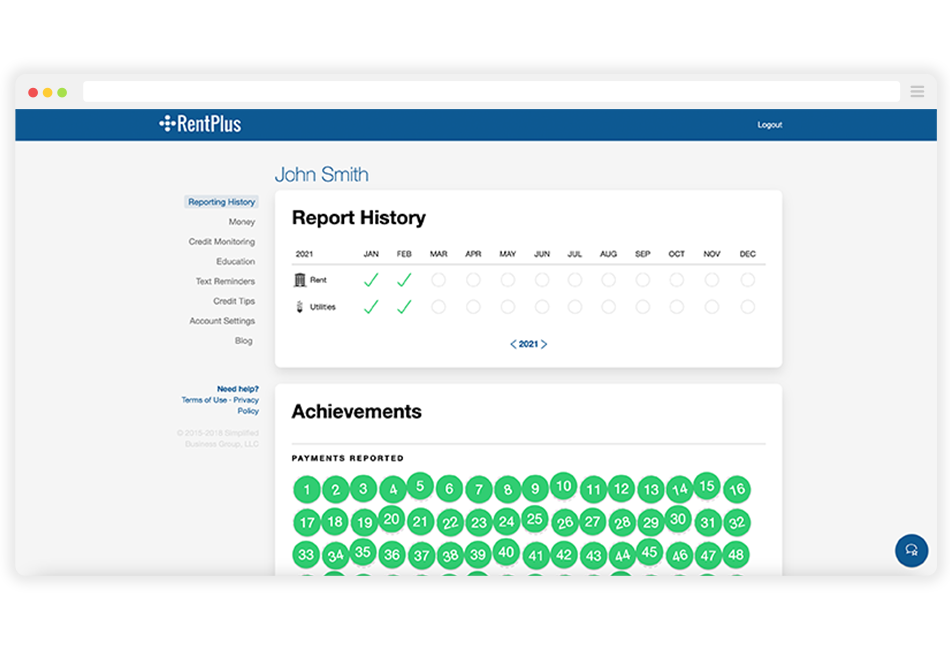 Multifamily Credit Building Programs for the Win-Win-Win
RentPlus is a "win-win-win" social initiative. Unlike other credit-building programs in the multifamily industry, all parties in property management have a vested interest. RentPlus includes credit-building and accounts with FinStrong, RentPlus Money tools for residents, and a free credit score tracker (coming soon). On the PMC side, RentPlus ensures a greater tenant retention rate, minimized delinquent rent payments for communities, and provides additional revenue options.
What value will RentPlus® bring for your community?
RentPlus®, a credit-building program for multifamily properties, has been transformative for communities that provide this rent reporting service. We would like to demonstrate how your residents can develop financial independence by paying their monthly rent and utility bills. Leave your information below!

Why rent reporting matters?
For Residents
Your residents are your most loyal supporters. With the historically underserved seeking rent relief after recent financial hardships, RentPlus backdates up to 24 months of the most on-time, paid utility, making this a quick way to raise credit scores! Without any minimum prerequisites or the need for credit checks or loans, imagine the effectiveness of combining rent reporting with FinStrong financial education platform and RentPlus Money for budgeting and spending. A win-win situation!
For Communities
Residents enrolled in RentPlus are not shy to share their successes – and we are here for it! By offering rental credit reporting and reporting resident rental payments to all three credit bureaus (Equifax, TransUnion, and Experian), community leasing agents and local managers can promote timely rental payments and help their residents achieve financial success. In doing so, they satisfy their desire to lend a hand and make a positive impact. WIN!
For Property Management Companies
RentPlus provides an additional revenue channel for PMCs, which is especially important during these challenging times. With a potential year-end income of up to $10K MRR, RentPlus is a great way to boost your revenue. Visit our revenue calculator to see how much you could earn. WIN!
We Put the 'S' in ESG –
RentPlus is a socially responsible program that boosts property value for socially conscious investors, which aligns with the current trend for ESG in CRE. RentPlus provides lasting and tangible value to your residents by helping them qualify for purchases like car or home loans and providing financial tools to build a better financial future – all by simply paying rent on time.
The Best Secured Credit Card –
The RentPlus debit and secured credit cards are now here! This exciting new partnership with QuextPay will offer accessible resident banking and additional credit-building opportunities for your residents. With FastPay for early access to paychecks, savings tools, and more, your residents will enjoy a suite of perks. Learn more about the RentPlus card program and join the waitlist for this exciting opportunity.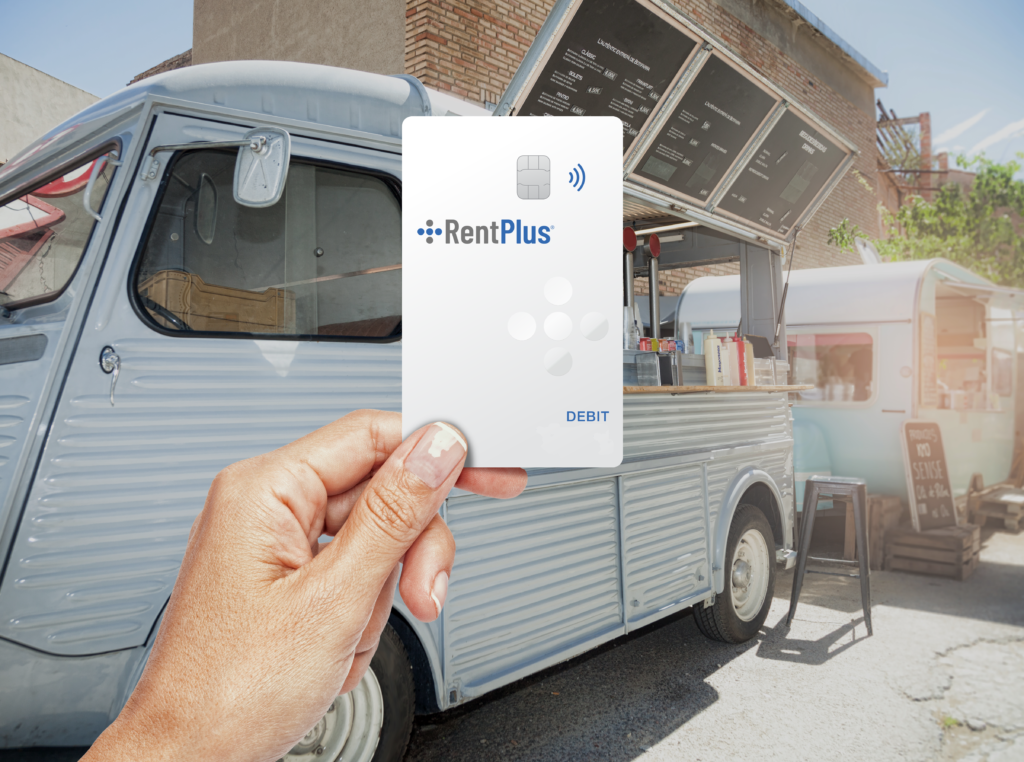 An Amenity that Sets You Apart
Marketing
RentPlus is a true differentiator and community selling point
Offers a unique amenity to stand apart from your competitors
Build Revenue While Making a Difference
Leasing
Encourages credit-conscious renters
Reduces delinquent payments
Provides ancillary revenue to the property management company
Leave a Lasting Positive Impact
Retention
Helps residents build and maintain credit
Automatically categorizes purchases to set and view a budget, and track savings goals
Includes a personalized financial education program
Drives financially responsible behaviors with text alerts and credit tips
Can help residents qualify for major purchases like buying a car, paying for college, etc.
Includes fraud protection policy (up to $1 million coverage)
Start your Journey with Rent Dynamics
Schedule a demo with one of our product experts today.
Start Improving Your Credit Score Today
Learn more about how rental payment reporting can help you achieve your financial goals.