Resident Retention, Meaningful Value
Rental payment reporting with RentPlus
RentPlus allows your residents the ability to establish and build their credit simply by making on-time rental and utility payments — an amenity that adds real value and is a true differentiator to set your community apart.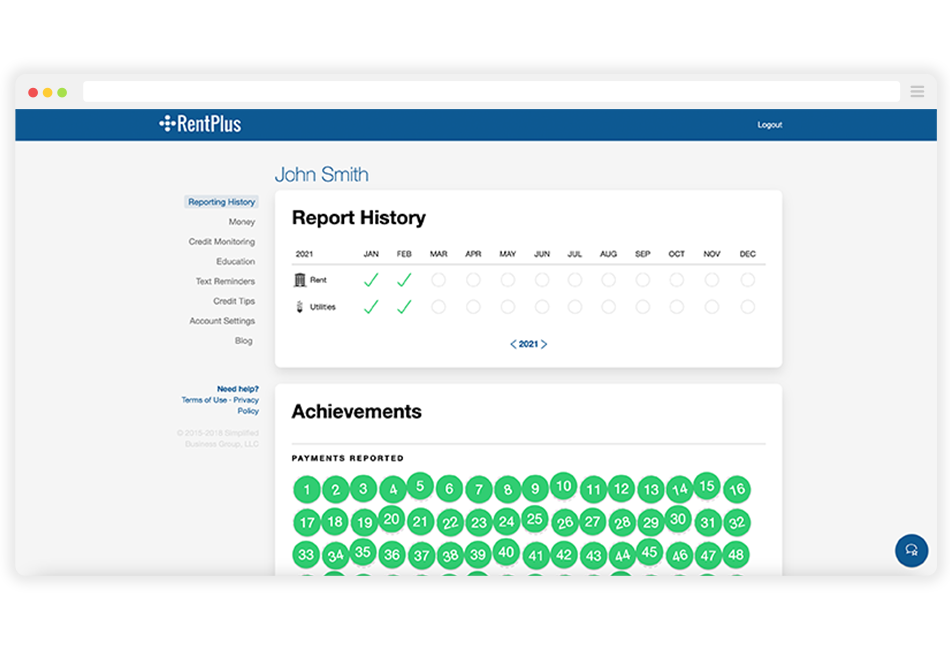 Win-Win-Win
With RentPlus, everyone wins — especially your residents. While communities earn ancillary revenue, residents are building credit and driving financially responsible behaviors, like decreased delinquent payments and increased on-time payments.
An amenity they'll actually care about
Not only does RentPlus provide automated rental payment reporting to credit bureaus for your residents, we also provide best-in-class financial education programs with FinStrong, budget management tools, identity theft protection, and more. Through RentPlus, residents are able to build their credit and have the financial tools to be able to qualify for purchases like a car or home loan.
New Multifamily Legislation
New legislation, Senate Bill 1157, mandates that some properties offer rental payment reporting to their residents. Learn more about SB-1157 and how this is a game-changer for multifamily, and what you can do to prepare for the upcoming changes.
An Amenity that Sets You Apart
Marketing
RentPlus is a true differentiator and community selling point
Offering a unique amenity to stand apart from your competitors
Build Revenue While Making a Difference
Leasing
Encourages credit-conscious renters
Reduces delinquent payments
Provides ancillary revenue to the property management company
Leave a Positive Impact on Your Residents
Retention
Helps residents build and maintain credit
Automatically categorizes purchases to set and view a budget, and track savings goals
Includes a personalized financial education program
Drives financially responsible behaviors with text alerts and credit tips
Can help residents qualify for major purchases like buying a car, paying for college, etc.
Fraud protection policy (up to $1 million coverage)
Start your Journey with Rent Dynamics
Schedule a demo with one of our product experts today.
Start Improving Your Credit Score Today
Learn more about how rental payment reporting can help you achieve your financial goals.