R
ES

ident Retention, Meanin

G

ful Value

Rent Reporting for All

We put the 'S' in ESG or Environmental, Social, and Governance initiatives. RentPlus is our unique solution that allows renters to build and improve their credit by ensuring timely rent and utility payments. We've eliminated the need for credit checks or loans, making it a premier feature for property management companies (PMCs) focused on retaining residents.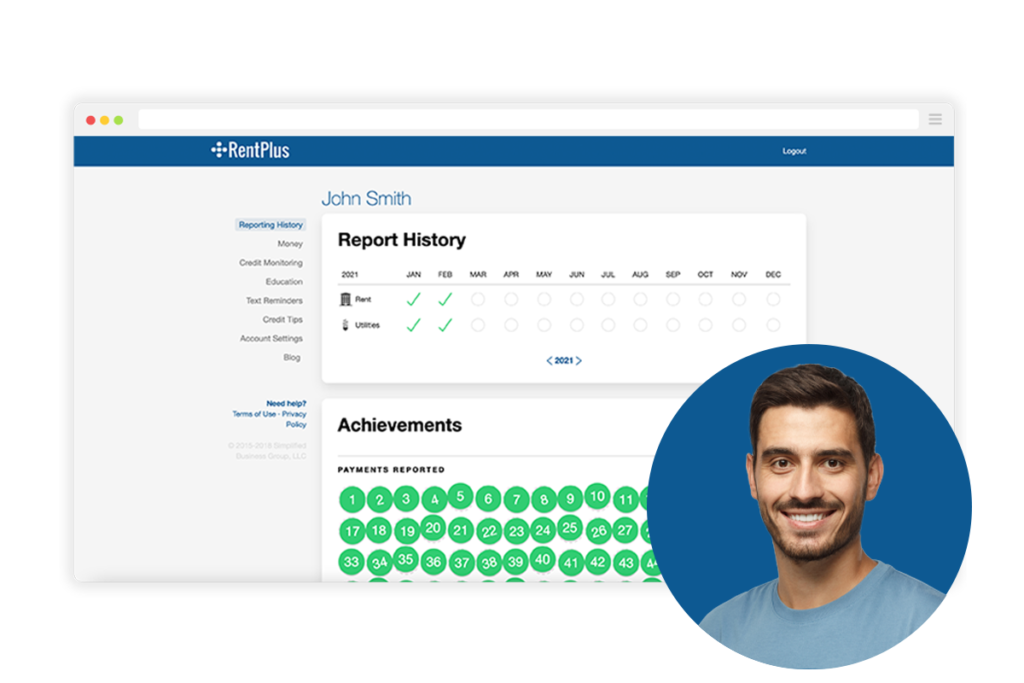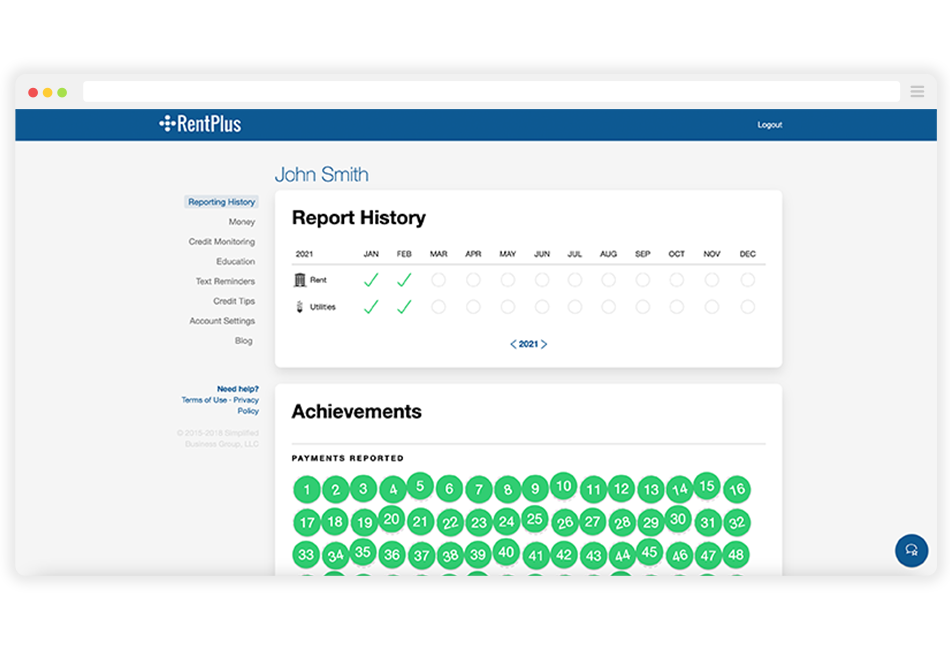 Multifamily Credit Building Programs for the Win-Win-Win
RentPlus is a unique "win-win-win" social initiative with features that include credit-building with FinStrong, RentPlus Money tools, and an upcoming free credit score tracker. For PMCs, RentPlus promises higher tenant retention, fewer late rent payments, and new revenue streams.
What value will RentPlus® bring for your community?
RentPlus®, a credit-building program for multifamily properties, has been transformative for communities that provide this rent reporting service. We would like to demonstrate how your residents can develop financial independence by paying their monthly rent and utility bills. Leave your information below!

Why rent reporting matters?
For Residents
Support your residents with RentPlus. Amidst financial challenges, RentPlus is a beacon for underserved communities. We allow up to 24 months of backdated, paid utility bills to boost credit scores. With minimal requirements and no credit checks or loans, residents benefit from rent reporting, FinStrong's financial education, and RentPlus Money for budgeting. A genuine WIN for residents!
For Communities
The RentPlus program is creating a buzz among residents! With our platform, the dream of rental credit reporting becomes a reality. Rental payments are now reported to all three major credit bureaus – Equifax, TransUnion, and Experian. This initiative empowers community leasing agents and local managers to assist their residents in achieving financial success. By encouraging punctual rental payments, they're positively transforming their residents' lives. A WIN for communities!
For Property Management Companies
In these uncertain times, RentPlus offers PMCs new revenue opportunities. The potential for an annual income of up to $10K MRR is groundbreaking. Use our revenue calculator to estimate your earnings. A WIN for PMCs!
We Put the 'S' in ESG –
Experience the profound influence of RentPlus. Our initiative appeals to socially conscious investors and aligns with the ESG trend in CRE. RentPlus provides lasting value to residents, helping them qualify for loans through consistent rent payments and offering financial tools for a prosperous future.
The Best Secured Credit Card –
The RentPlus debit and secured credit cards are now here! In partnership with QuextPay, RentPlus presents its debit and secured credit cards. Residents gain comprehensive banking services and more avenues for credit-building. With FastPay, residents can access paychecks early, use savings tools, and more. Explore the RentPlus card program today.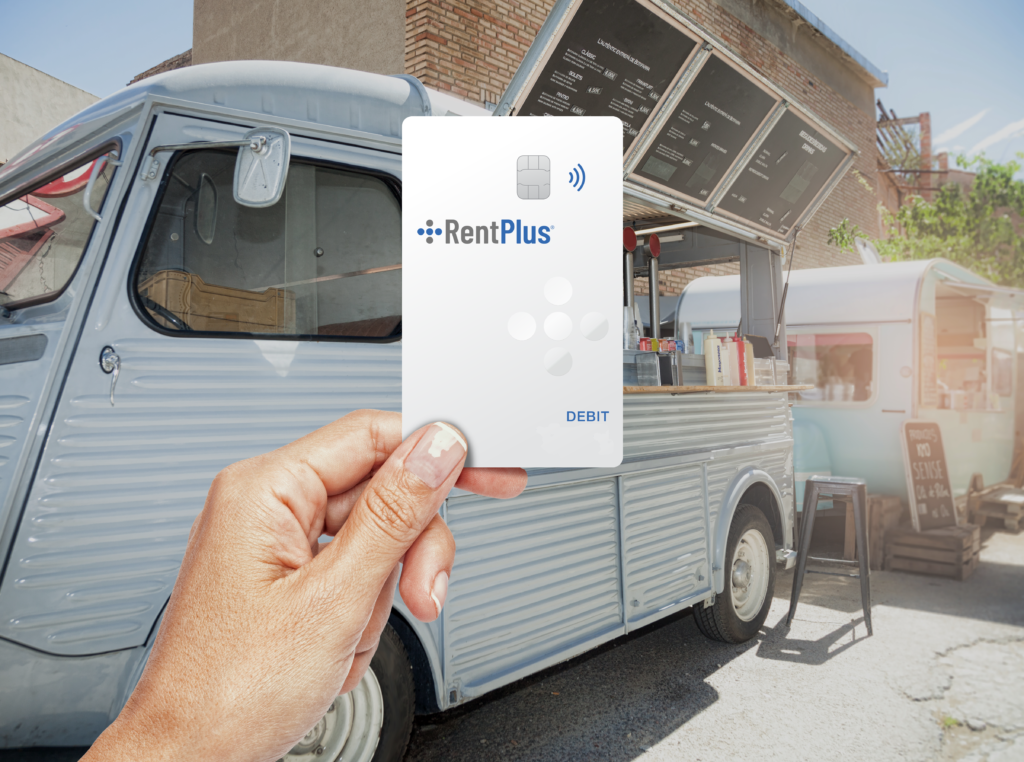 RentPlus FAQ
What is RentPlus?
RentPlus is a pioneering credit-building program for renters. It empowers them to fortify their credit through punctual rental and utility payments without the constraints of credit checks or loans. The program encompasses features like credit-building accounts with FinStrong, RentPlus Money tools for residents, and an upcoming free credit score tracker.
How does RentPlus benefit communities and property management companies?
RentPlus enhances communities and PMCs by increasing tenant retention, reducing late rent payments, and introducing new revenue opportunities. RentPlus makes rental credit reporting a reality, as payments are reported to all three credit bureaus.
What is the value of RentPlus for residents?
RentPlus supports residents in achieving financial independence. The program also provides a 24-month retroactive credit for consistent utility bill payments, leading to a rapid credit score boost. The combination of rent reporting, FinStrong education, and RentPlus Money offers a powerful financial toolkit.
What is the impact of RentPlus on ESG initiatives?
RentPlus epitomizes the 'S' in ESG, symbolizing a socially responsible venture that aligns with the ESG trend in CRE. RentPlus adds value to residents, assisting them with loan qualifications and equipping them with financial tools for a brighter future.
An Amenity that Sets You Apart
Marketing
RentPlus is a true differentiator and community selling point
Offers a unique amenity to stand apart from your competitors
Build Revenue While Making a Difference
Leasing
Encourages credit-conscious renters
Reduces delinquent payments
Provides ancillary revenue to the property management company
Leave a Lasting Positive Impact
Retention
Helps residents build and maintain credit
Automatically categorizes purchases to set and view a budget, and track savings goals
Includes a personalized financial education program
Drives financially responsible behaviors with text alerts and credit tips
Can help residents qualify for major purchases like buying a car, paying for college, etc.
Includes fraud protection policy (up to $1 million coverage)
Start your Journey with Rent Dynamics
Schedule a demo with one of our product experts today.
Start Improving Your Credit Score Today
Learn more about how rental payment reporting can help you achieve your financial goals.